January 24, 2023 01:01 pm GMT
Discovering open source repos with Quine
Hello DevTo community
This is Rodrigo from Quine, a new platform that helps you find good-first-issues on GitHub based on your language and topic preferences.
Contributing to open source is difficult, so we set ourselves to split up the contributor journey into small pieces and simplify each piece individually.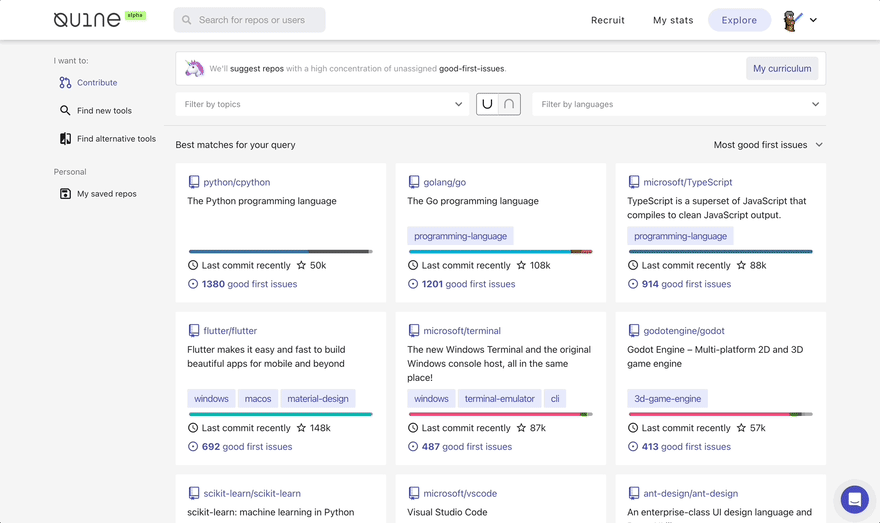 Probably, one of the lengthiest and chaotic segments of the contributor journey is the discovery phase. Opportunities to contribute to open source dont usually land on our hands. In fact, most contributors identify opportunities by solving bugs or adding features to the tools they use on a regular basis. This is the most natural and organic way to add our grain of sand to a codebase, but also a journey that we don't have much control over.
We think that discovering new repos on GitHub should be as easy as discovering new content on Reels or TikTok. At Quine we're working very hard to make the process of picking a repo easy and fun. All you have to do is choose your language and topic preferences and we'll point you in the right direction. It is that easy!
So start browsing open source now by logging in to Quine and letting us know which topics and languages youre interested in. Quine will automatically use this information to set your default search parameters!
Quines tools for repo discovery don't end there. Have you tried our feature for finding new tools and finding alternative repos? If you have, let us know what you think in the comments! If not, stay tuned - well give them a proper introduction in our next post!
Original Link: https://dev.to/quine/browsing-open-source-repos-with-quine-3lhp
Share this article:
Tweet
View Full Article
Dev To
An online community for sharing and discovering great ideas, having debates, and making friends
More About this Source
Visit Dev To