September 22, 2022 09:59 am GMT
PHP Token ICO Presale Launchpad Script - Multi Chain
PHP Token ICO Presale Launchpad Script - Multi Chain
FULLY AUTOMATIC DELIVERY
WORKS INTEGRATED WITH METAMASK
(English, German, French, Russian, Arabic, Chinese, Turkish)
If You Have An ICO - Pre-Sale Planning For Your New Token Project, We Have Prepared This Planning For You To Realize It In The Healthiest Way.
You Can Pre-Sell Your Token on 7 Blockchain Networks.
You can determine the price of each token amount to be sold in the pre-sale from the panel yourself.
Pre-Sale Details;
You Can Set and Limit the Minimum and Maximum Quantity that can be purchased from the Pre-Sale.
You Can Also Use The One Time Pre-Sale Feature Of Each IP On All Networks.
When the User Makes the Payment;
At this stage, after passing the security checks, the Deserved Token Amount is Automatically Sent to the User's Wallet.
When the Transfer Process is Successfully Completed, the "Transaction Details" Page is displayed to the user, and All the Details and Links of the Transactions are found.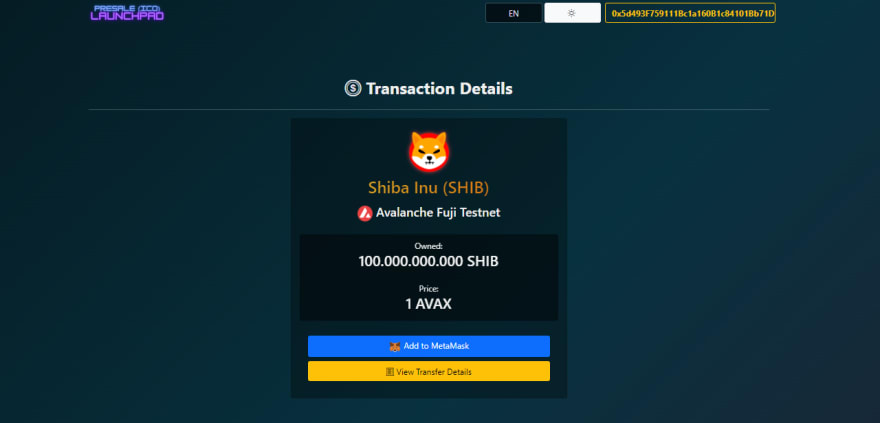 In addition, there is an auxiliary button "Add to MetaMask" so that the user can see the supply of the token.
If the User Uses This Button, Token Information is Added to the MetaMask Wallet and Also Listed on MetaMask with the Token Logo Image You Set in the Admin Panel.
All Operations on the User's Side End Here.
Management panel;
The Page where the Logs are Recorded, Where You Can Control All Transactions.
It Records All Actions Taken and Displays Successful or Error Results.
Page where you can see and edit all BlockChain Networks;
The software is Clean Coded with PHP 7.4 and CodeIgniter4.
Powered by NodeJS.
There must be NODEJS in the server or hosting of the software to be installed.
You can contact via Telegram for Purchase, Question, Suggestion.
Original Link: https://dev.to/webtroloji/php-token-ico-presale-launchpad-script-multi-chain-38ml
Share this article:
Tweet
View Full Article
Dev To
An online community for sharing and discovering great ideas, having debates, and making friends
More About this Source
Visit Dev To