October 13, 2021 10:09 am GMT
Join Hacktoberfest 2021 with Milvus!
How's your #Hacktoberfest so far?
If you have not started yet, it's still not too late. Join the event with Milvus community and win some awesome prizes!
LET'S GET STARTED!
How to participate
Sign up for the event on the Hacktoberfest website and visit Milvus Hactoberfest 2021 landing page. If youre new to the open source world, no worries, weve got you covered. Here are some useful resources for beginners:
How to create a good commit message
Below weve prepared a number of issues of different specialties to kick off the event, but you are free to wander around the Milvus Project and take on any existing issue or open a new issue you find interesting. Just dont forget to mention Hacktoberfest in your PR title to make sure it counts toward your Hacktoberfest participation.
Code
As the traditional way to contribute to open source projects, we happily welcome code contributions - the more the merrier! Weve labeled a series of issues based on difficulty as beginner, intermediate, and advanced (Jackpot if you are to solve it!) for contributors of all skill levels. Click the issue links to learn more.
Documentation
Help improve our documentation! Were always looking to improve our website and associated docs. If you are a newbie contributor, this is a great place to get your feet wet with Milvus. Weve prepared a list of newbie-friendly Hacktoberfest issues ready to be tackled.
Milvus technical documentation
Milvus Go API reference documentation
Community content
The Milvus community is more than just code! In addition to documentation and direct code contributions, there are lots of other areas to show off your creativity. Some examples include:
Showcases of a project youve built with Milvus
Blog posts about interesting use cases or topics related to vector database technology
Video content
Website design
Artwork
Anything else you can think of!
Bootcamp
Milvus Bootcamp is a repository of sample projects that demonstrate some of the possibilities of Milvus. You can contribute to the bootcamp by creating GitHub issues or pull requests for bug fixes, improvement suggestions, or other changes.
Were also looking for new projects to add to the Bootcamp. If you have a project idea youd like to build on, even if it is just a concept, we encourage you to post a proposal in the Hacktoberfest category to stir up some discussions.
Community content contribution
Prizes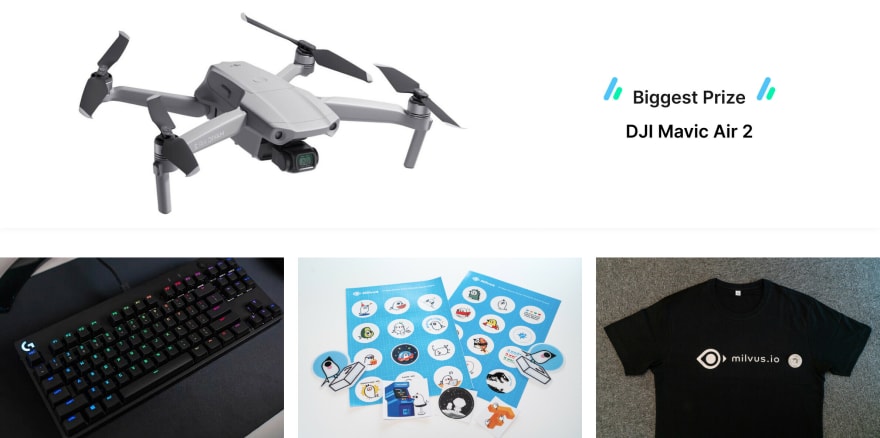 This year we are going big! Besides the limited edition Hacktoberfest T-shirt 2, by contributing to the Milvus project between October 1 and October 31 youll also earn some additional swag and prizes sponsored by Zilliz.
To be eligible for prizes, you need to have:
1 merged PR to receive a sticker pack & a digital Milvus contributor badge (for you to showcase on your LinkedIn profile).

2+ merged PRs to receive a sticker pack, a digital Milvus contributor badge, and a Milvus T-shirt (only for the first 50 participants).
But thats not all. You also have the chance to bring home:
A Logitech Pro X Keyboard (USD $149 value) and a physical Hacktoberfest badge if recognized as Top Contributor (Best Quality PR).

A DJI Drone (USD $799 value) if you complete at least 1 PR merged with the issue tagged #advanced and is awarded the Grand Prize (Most Difficult PR).
The above-mentioned prizes might be replaced with alternatives of the equivalent value should shipping restrictions occur. The final interpretation right belongs to Zilliz.
Claim your prize
Once youve submitted your PR, dont forget to come back and fill in your information here before October 31 to claim your prizes.
Contact us
Milvus Discussion Forum: You can DM @kateshaowanjou or @Renshi8 for any questions you might have about the event or the Forum.
Follow us on Twitter and if your contribution is highlighted during the event you could earn special swag!
Milvus

16:52 PM - 22 Sep 2021
Original Link: https://dev.to/milvusio/join-hacktoberfest-2021-with-milvus-3k3n
Share this article:
Tweet
View Full Article
Dev To
An online community for sharing and discovering great ideas, having debates, and making friends
More About this Source
Visit Dev To